Merely a Regret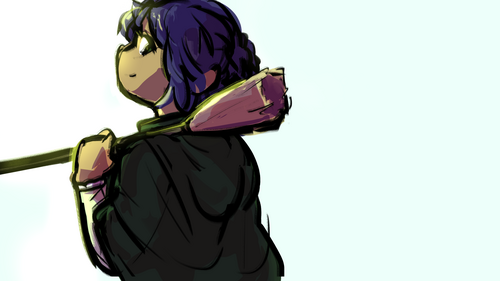 It's been a little while, hasn't it? Yuri Game Jam was nearly two months ago with 41 lovely gay games submitted; a decade came to a close and a new one began. So given all that, where does 'Merely a Regret' stand?

Slowly making progress is the answer. The past two months have been busy for both Vivid Grim and I with other projects, holidays, day jobs, and personal stuff. Nevertheless we're excited to show you some of the changes and updates 'Merely a Regret' has seen.
Writing
For scenes in the demo, not much has been changed with them writing wise. The biggest overhaul comes with the later parts of the story. Internally, the vn is divided into four acts with the demo covering most of the events up to the climax of Act 2. Although most of the script isn't in the demo, a rough draft of the entire story has existed for a while now. However, after the game jam I realized I was never super happy with the second half of the story.

Act 3 has been overhauled, with a lot of individual parts redone, shifted around, or removed completely. In place of some of the removed scenes, new ones have taken their place. It's not wildly different, but it is noticeably different. We also finalized the opening of Act 3.
Act 4 has undergone a similar overhaul, but not as big. Smaller details about where the characters end up (namely Sigurn) are clearer, and more fleshed out.
Art
Vivid's done cool stuff! For starters, Siggy and Thistle have some new emotions! Sigurn has a new expression: bothered.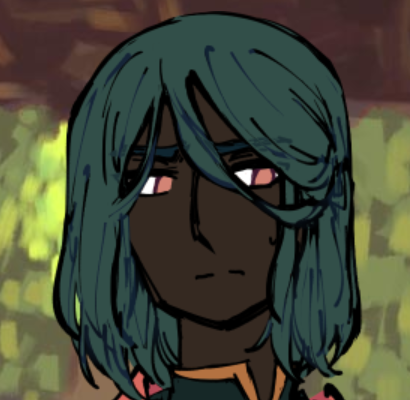 Thistle now has a neutral expression. Thistle's left-facing sprite has also been updated.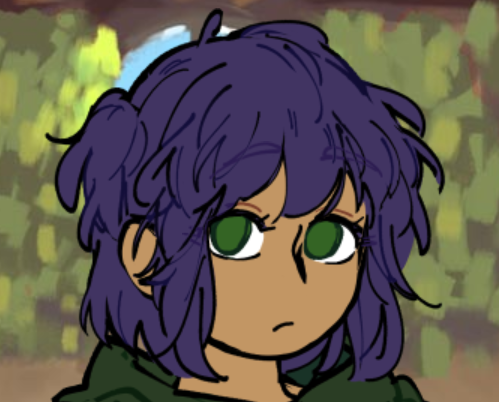 Vivid also has made an actual icon for the game to replace the default one from Renpy. It's a combination of Thistle and Siggy's symbols, and it looks freaking awesome.

Accessibility
At the suggestion of BunSE the opening setup has been redone! Albeit not quite the way she suggested. Instead of bringing you through each and every option, you can select which options you want to view from a menu. Once you select the accessibility options you want to change, you can then make the changes there.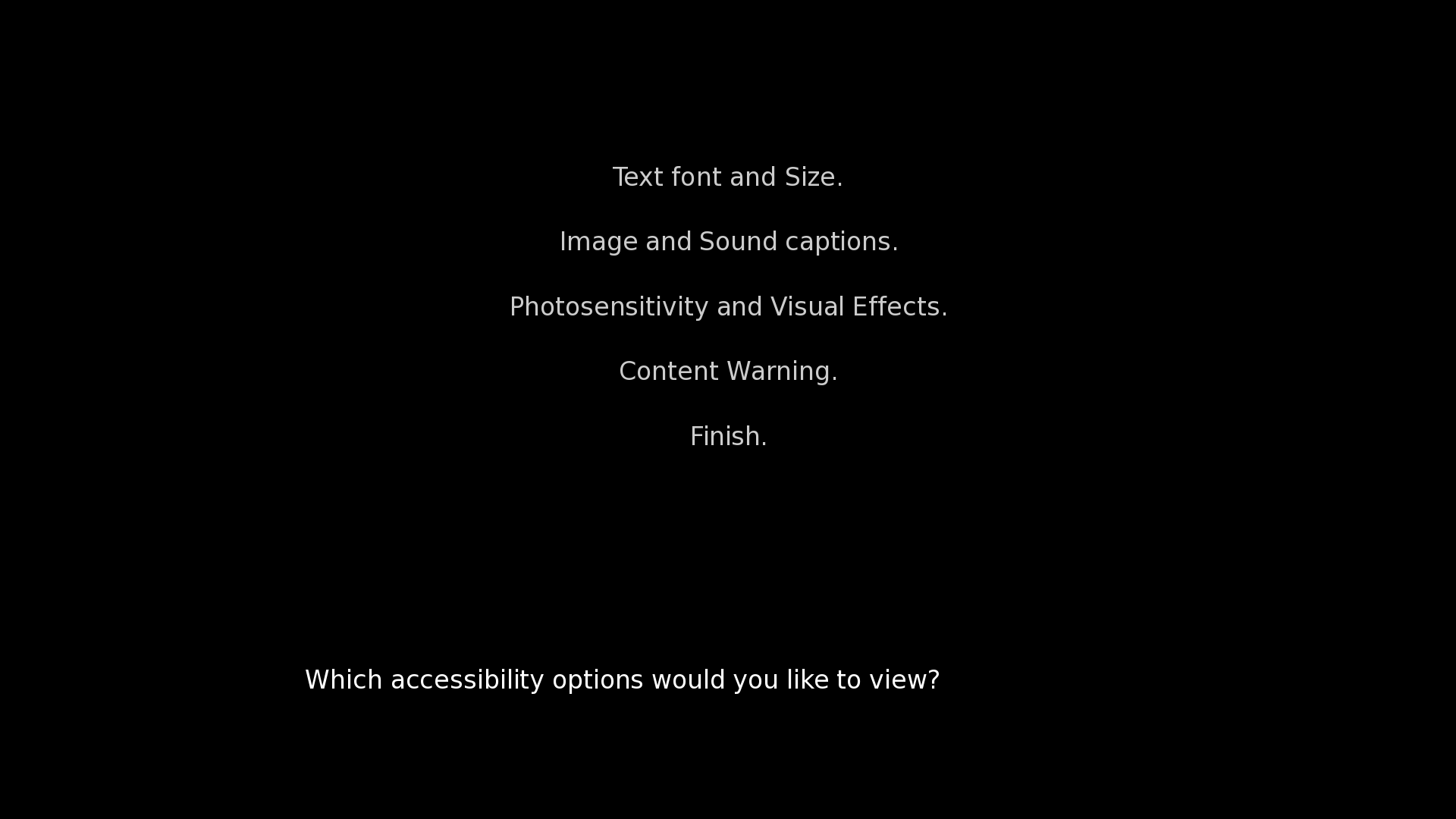 The options themselves have also been updated. Three new options exist: screen shake, photosensitive, and text color. Screen shake turns off any screen shaking in the novel, and photosensitive will turn off flashes. Dummy code for screen shake and photosensitive existed in the demo, but did nothing. With their corresponding effects being implemented in game, these options now matter. Text color is a completely new addition added after the game jam. You can now pick the color you want the text to be from a RGB color scale, or just stick with white if that is easiest for you (we've also been working on GUI updates to make it look nicer).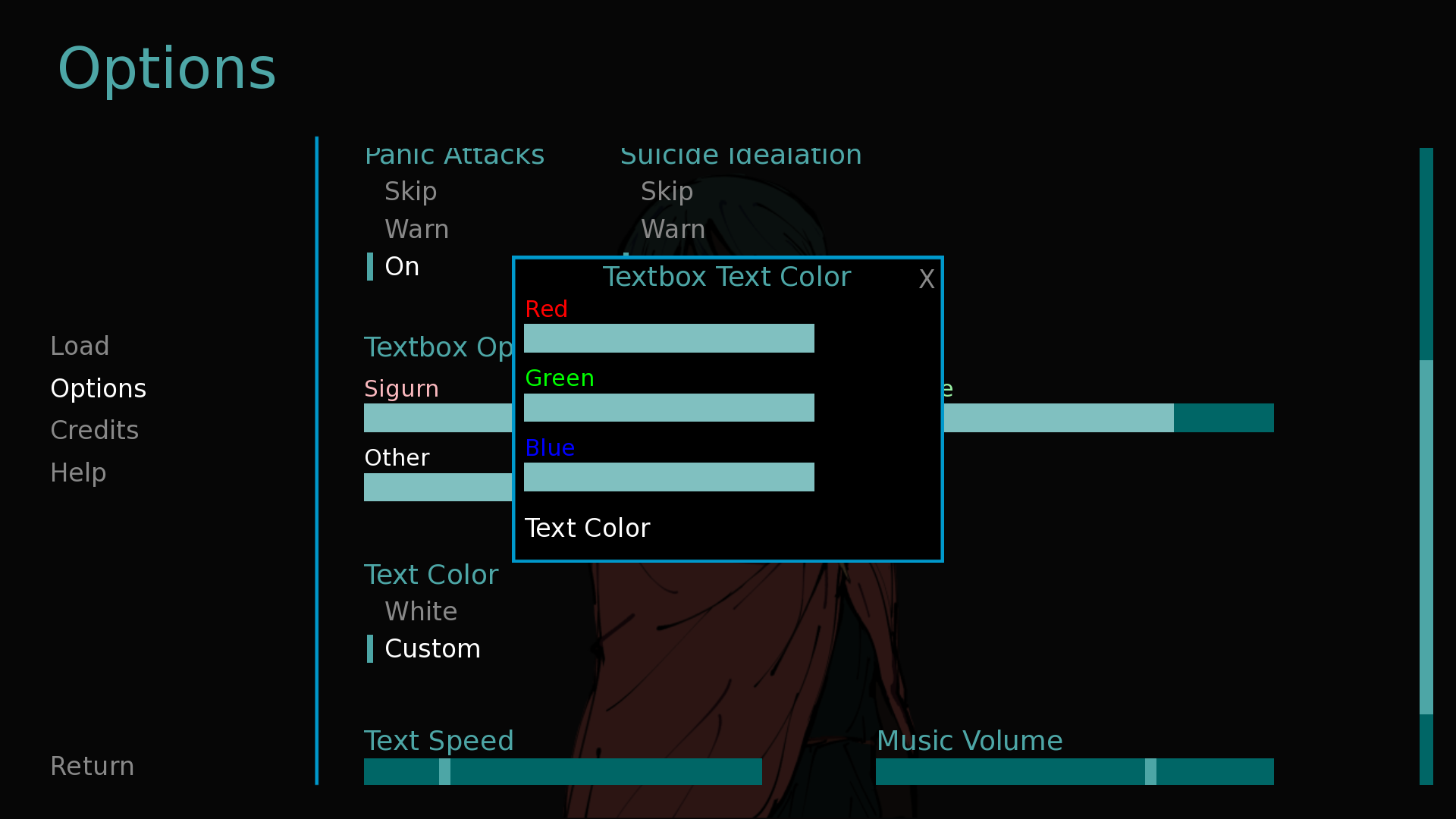 In addition to these changes, content warning toggles have been overhauled. Along with skipping scenes with potentially triggering/upsetting content, you can be warned about them before they occur. After receiving a description of the upcoming content, you will be given the option to resume the scene or skip it. If the scene contains something you already selected to skip, then it will be skipped without prompting you.

Music
Up until now, all music used in the game has been from Sound Image. Then s9menine as part of npckc discord server's gift exchange gave us an original track based on a scene in the game - and, amazingly, agreement to let us use it.

Thank you so much s9meneine for this awesome gift.
Closing
That's all we got so far. But before we go one last note:
Thank you.
I personally didn't expect such a warm reception. So if you are reading to the end of this dev log, thank you believing in this queer little project. No really, thank you so much. It's been an experience making Merely a Regret, and I am hopeful for the future.
Until then, best of luck!
- WannabeCat